One of most recent family adventures was hosting our first trunk at a Trunk or Treat event. After a short family discussion, we settled on making a Harry Potter themed Quidditch Trunk. Part of the fun was creating the decorations together.
The Girls Getting Creative
The girls helped me build and decorate the viewing stands that surround the Quidditch Pitch. We made 4, one to represent each Hogwarts house. Here's full direction on how we made the DIY Quidditch Pitch Viewing Stands.
I created the Quidditch sign on Silhouette Studio design software and cut it out of black and white card stock with the Silhouette Cameo. The girls helped me glue the sign to cardboard and carefully cut the cardboard by hand.
We wanted our Quidditch Trunk or Treat to be more than just a stop for candy. We wanted an interactive game. So, we created quidditch goals. Perfect for throwing quaffles (balls) through. This is the simple process I used to make the DIY Quidditch Goals. Inside the trunk, I used a green tablecloth from a dollar store as the "grass" on the field and to cover the base of the goals.
Some of the other decorations included:
– 2 Bludgers: Made out of styrofoam balls covered in brown faux-leather fabric from my fabric stash
– 1 Golden Snitch: Made out of a gold ornament, wings made of tissue paper and clear packing tape
– Quidditch Team Posters: Printed from here and glued on cardboard
Our background is white poster board. My ten year old daughter spent a lot of time very carefully drawing this beautiful back drop for the game. She included quidditch players for both teams flying around, with trees, mountains and a cloudy sky.
Putting the Trunk Together!!
Creating all of our decorations took about a month, mostly on weekends and evenings. I could have gotten in done faster by myself, but I wanted to spend the time with my girls being creative, teaching them fun things and allowing their creativity to flow. For this reason, we moved at a slower pace (than I usually like), but it needed to stay fun for everyone. I think the fact that they were part of creating the trunk made the Trunk or Treat even more fun for them.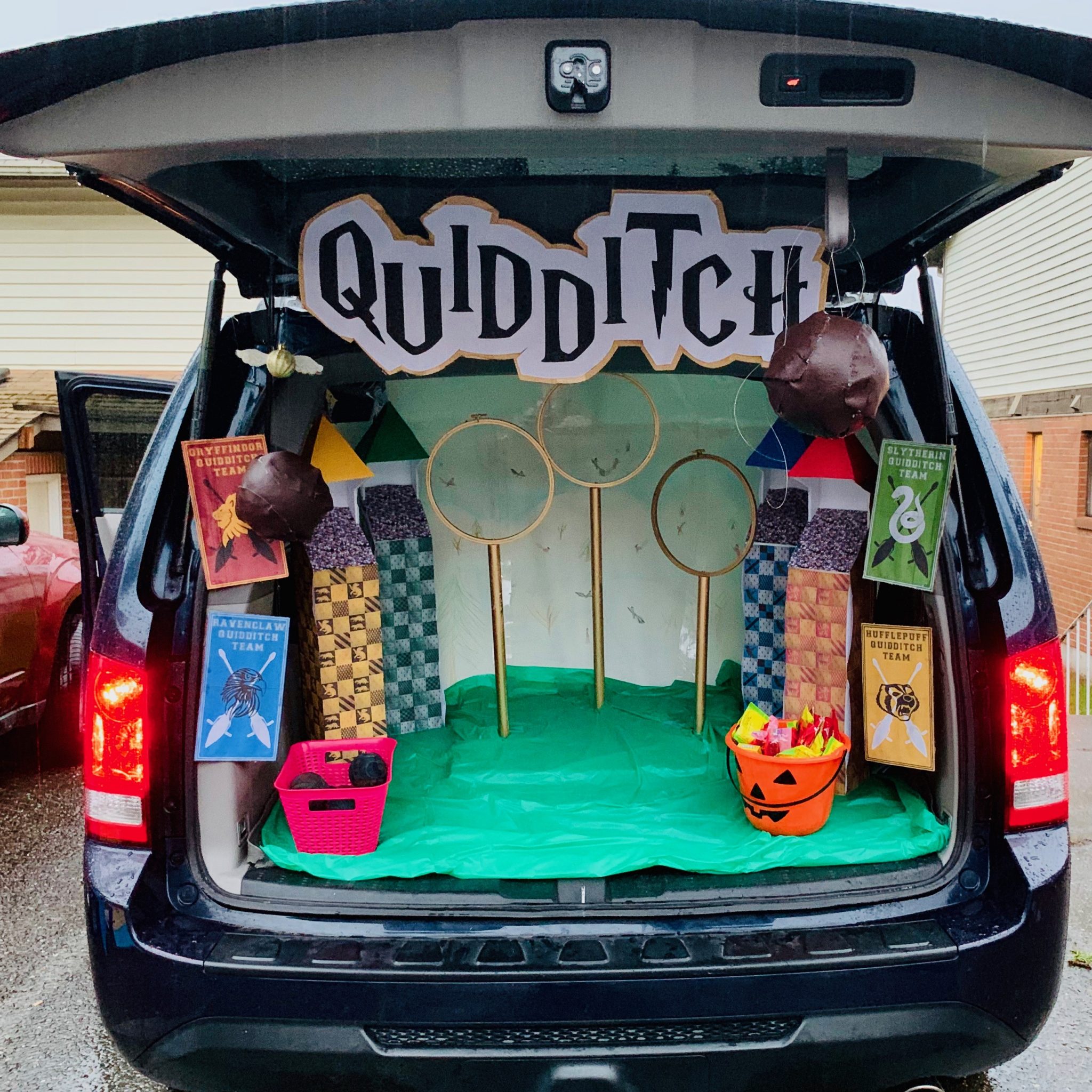 A couple days before the event, the girls and I spent about 4 hours figuring out how to put the Quidditch Trunk or Treat together. (Ok the oldest stuck with me for 4 hours. The younger two helped off and on and popped in to let us know their thoughts on our progress.) The thing that took the longest was getting the background in the right spot. I wanted it to curve toward the back of the car, so when balls hit it, they would roll back out to us. I didn't want to be climbing in the back of the car all night to retrieve balls. All our planning paid off because it only took about 10 minutes to set up the day of the event.
We hung all the hanging decorations with fishing line. It helped give the illusion they were floating. We had a basket for the quaffles and a bucket of candy. I had originally planned for the team posters to just be decoration. However, they ended up being really helpful when the trunk-or-treaters were picking out which team they wanted to play for. One young boy didn't quite understand, so he decided to play for Grandma. It was so sweet. So, as he scored, I called out "10 points for Grandma. 20 points for Grandma." And Grandma had the biggest grin on her face.
We were also part of the decorations. Here's us before we headed out for the Trunk or Treat. Professor McGonagall, Professor Dumbledore and 3 Griffendor students. They are definitely very courageous, determined … and creative … young ladies.
Memories to last a lifetime!!