Nutrition: 392 calories
You're going to love these delicious Eggs with Avocado and Bacon. Start your day with creamy avocado, melted cheese, smokey bacon topped with fried eggs.
Mornings can be hectic around our house. Running around trying to get everyone ready for school, making sure everyone is fed, lunch is made and backpacks are packed. This is a quick breakfast I can make myself on busy mornings and still have time to get everything else done. Best of all, these simple ingredients are packed with flavor, so it's fun to eat. And, it keeps me full until lunch. A win-win, delicious and nutritious and ready in minutes.
One of my favorite breakfasts since, well as long as I can remember, is eggs on toast. Over easy eggs, to be precise because the toast "catches" all the delicious yolk. Well now that I refrain from high-carb foods, and therefore toast, I needed something to catch all that yolk. Enter Avocado and bacon. Cut up the eggs, mix with the broiled avocado, and there's no yolk left behind.

I like my eggs over easy, with cooked whites and runny yolk. But if you prefer your eggs cooked more than that, go for it. You'll still get all the scrumptious flavors of eggs with avocado and bacon in every bite.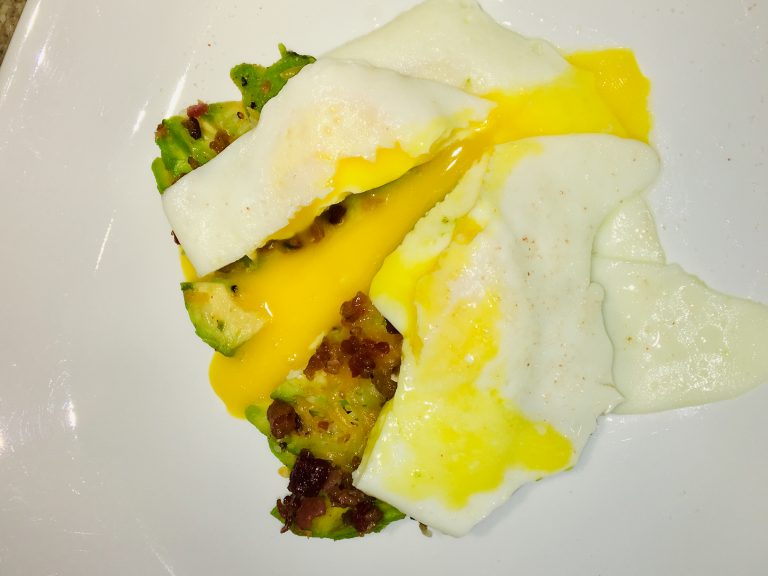 My Favorite Way to Cut an Avocado
How to Cut an Avocado | My Food and Family
Eggs with Avocado and Bacon
Do you enjoy creamy avocado, smokey bacon, and fried eggs? These delicious Eggs with Avocado and Bacon are a quick and nutritious way to get going in the morning.
Total Time: 10 min
Prep Time: 2 min
Cook Time: 8 min

Ingredients
1/2 an Avocado, sliced
1 Tbsp Shredded Cheese
1 Tbsp Bacon Crumbles
2 Eggs
Coconut oil as needed
Salt and Pepper to Taste
Directions
Turn oven on to broil (I like to use my toaster oven). While the oven is heating, slice the avocado and fan the slices out on a piece of parchment paper with slices overlapping.
Season the avocado slices with salt and pepper and top with shredded cheese and bacon crumbles.
Broil avocado 1-3 minutes, watching closely, until the cheese is melted and the bacon is fragrant. Remove from oven and set aside.
While avocado is broiling heat a non-stick skillet over medium-low heat. Even though it's a non-stick skillet, I still like to a little bit of coconut oil to the pan to make flipping the eggs easier.
Once the skillet is warmed up, add eggs to the pan. Cook eggs 2-3 minutes until whites are almost cooked through and gently flip over. Cook an additional 30 seconds or so to finish cooking the egg whites, but not too long so the yolk stays runny. If you like your eggs cooked more than over-easy, keep cooking until desired doneness.
Place broiled avocado on a plate, top with the eggs, season with salt and pepper as desired and enjoy.
Nutrition Information:
Yield: 1 serving
Amount Per Serving: Calories: 392, Total Fat: 32.5g, Saturated Fat: 8g, Carbohydrates: 9.6g, Fiber 6.7g, Sugars: 1.4g, Protein 17.9 g